Mastafinish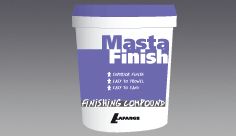 click to enlarge
Product Code:
MF
Category:
Compounds
Manufacturer:
Knauf
Specifications:
Mastafinish 20kg > Superior finish > Easy to trowel > Easy to stand

Download Material Safety
Datasheet PDF
Enter quantity required and press "Add to Quote"

Available Options
Product Description
MastaFinish is a renowned, pre-mixed jointing compound ideally suited for the finishing coat over plasterboard joints. It has a beige colour and its smooth consistency makes it easy to trowel on. Light sanding results in a superb finish, particularly when used over MastaBase Bedding Cements. MastaFinish is available in 20kg buckets.